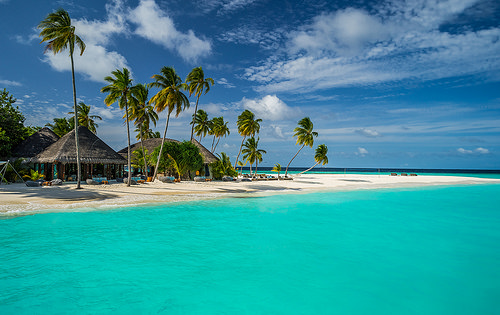 Maldives is a beautiful country with an amazing underwater world, stunning white sandy beaches and unrivaled luxury to offer its visitors. Every year over a million people visit this remote, tiny yet incredibly beautiful paradise in the Indian Ocean. Here are 10 surprising and really very interesting facts about the Maldives you will love to know:
Maldives is the flattest and lowest county in the world
You may have heard about different projections by scientists that Maldives will sink underwater very soon as on an average it is just 1.5 meters above the water level. The highest Maldives Island (Villingili Island) from the water is just 2.3 meters.  That is why many people want to visit and explore this paradise in the Indian Ocean before it disappears.
First Country to Hold an Underwater Cabinet Meeting
In 2009, Maldives became the first country to hold an underwater cabinet meeting. The purpose of the meeting was to raise awareness about the climate change as it is one of the many counties which are highly affected by climate change.
It is the Smallest Muslim Country in the World
You may not know that Maldives is the smallest Muslim county in the world. Don't forget it is the smallest country in Asia as well. Its constitution, written in 1997, forbids its citizens following any other religion other than Islam. Although the country is known for some religious intolerance, it is completely safe for tourists as locals are very friendly and welcoming to tourists.
Alcohol Is Allowed Only Within Resorts
As Maldives is a Muslim country, drinking alcohol is not allowed in Maldives. But it is permitted within hotels and resorts. So, tourists visiting Maldives must be very careful and not drink alcohol outside their resorts.
98 Percent Literacy Rate
Maldives is a collection of 1200 remote coral islands; still the literacy rate of this small country is 98 percent which is quite astonishing.
Only 200 among Total 1200 Islands Are Inhabited
Maldives have around 1200 coral islands but only 200 of those islands are inhabited. So, adventure lovers can easily go and explore the uninhabited islands of Maldives.
It Was Established By an Exiled Indian Prince
The first actual kingdom in Maldives was established by an exiled Indian prince who was the son of the king of Kalinga. The name of the prince was Sri Soorudasaruna Adeettiya. But the islands were colonized by the Indians long before that. Although the real date is unknown, it is believed that the islands were colonized before 269 BC.
The Destination for Ultimate Luxury
Maldives is highly dependent on its tourism and boasts of great number of world class resorts. The world's largest luxury hotel brands compete with each others to offer the most luxurious experiences for their guests. There are over 100 spectacular resorts to choose from. That is why Maldives is undoubtedly one of the most popular honeymoon destinations in the world.
Weekend on Friday and Saturday
Unlike most other countries in the world, the weekend in Maldives is Friday and Saturday not Saturday and Sunday.
One of the Safest Travel Destinations on Earth
As the islands in the Maldives are highly isolated, they are regarded as the safest for tourists. Most popular resorts own their private islands. So, the islands are incredibly tourist friendly.
Photo by Mac Qin

Author:
Tajirul Haque
Tajirul Haque is a travel enthusiast and freelance travel writer on Upwork. Having written hundreds of travel articles on so many travel destinations around the world for his clients, Tajirul started Top Travel Lists back in September 2014. Travel writing is his passion and he always loves to write about a new destination as it allows him to know about more beautiful places the planet has to offer. He is always available for freelance travel writing opportunities.