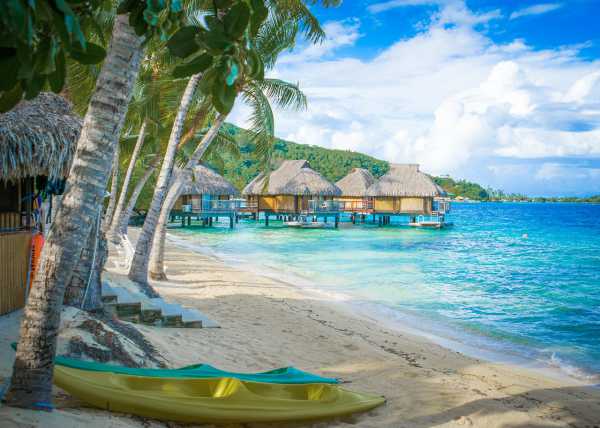 Bora Bora is an island in the south pacific located northwest of Tahiti in French Polynesia. The island is a very popular tourist destination that boasts of some brilliant water sporting activities and marvelous resorts. Bora Bora Island is a very appealing destination for signals, honeymooners and families alike. With charming sceneries and things to do all around, the environment in Bora Bora is simply delightful and perfect for spending your holidays. A visit to Bora Bora can be an experience of lifetime. Here are some top reasons to visit Bora Bora:
1. Wonderful Place for Relaxation
A visit to Bora Bora means you will have a very quiet and peaceful time on some of the most tranquil and cool beaches in the world. The white sandy beaches along with beautiful green forests on the coastline create a charming aura of tranquility.
2. Unlimited opportunities of Adventure
If you are looking for some exciting adventure, Bora Bora has plenty of opportunities for you. You can partake in a wide range of adventure activities such as windsurfing, ATV driving, kiteboarding, and 4×4 safaris. If you like having a little adrenaline rush the chances are you will love it here.
3. Wide Range of Water Sports
You will also be able to enjoy some magnificent water sport activities on the crystal clear water of the island. Tourists from all over the world love to go jet skiing, scuba diving, and parasailing around the island. The opportunities for diving and snorkeling in the island are truly top class. There are so many spots with live coral reefs on the island which make for some excellent underground scenery. You can hook up with a local guide to have a very memorable diving experience.
4. Unique Culture and Friendly Locals
You can get to know about the unique culture of the island. You will find the locals are willing to talk and present you with the best of the island. Most of them can speak English but they speak French and Tahitian as well. You will find the French Polynesian culture depicted in every corner of the island.
5. Photographers Paradise
If you are into photography, then you will absolutely love it here. Here you will find so many shots to capture that you will probably need more than one memory card. Bring an underwater camera too if you can, as the underwater topography here seen by diving is just amazing.
6. Over-water Bungalows
Sanding handsomely over the waters of the turquoise lagoons are some charming bungalows that will replace your desktop wallpaper for the days to come. You can enjoy your stay on the one or two bedrooms cabins in such a bungalow and experience the sparkling view of the water from the window in the soft summer breeze.
7. Exciting Nightlife
The nightlife in Bora Bora is quite amazing. You can enjoy your stay partying till the early morning hours in the many nightclubs and bars around the island. Maybe watching the fire dancers can be another perfect way to have some excitement.
8. Shopping
With plenty of art galleries, gift shops and especially black pearl shops, Bora Bora will offer you fascinating time if you are into shopping. You will be able to collect souvenirs and something useful for home no matter where you go.
Author:
Tajirul Haque
Tajirul Haque is a travel enthusiast and freelance travel writer on Upwork. Having written hundreds of travel articles on so many travel destinations around the world for his clients, Tajirul started Top Travel Lists back in September 2014. Travel writing is his passion and he always loves to write about a new destination as it allows him to know about more beautiful places the planet has to offer. He is always available for freelance travel writing opportunities.