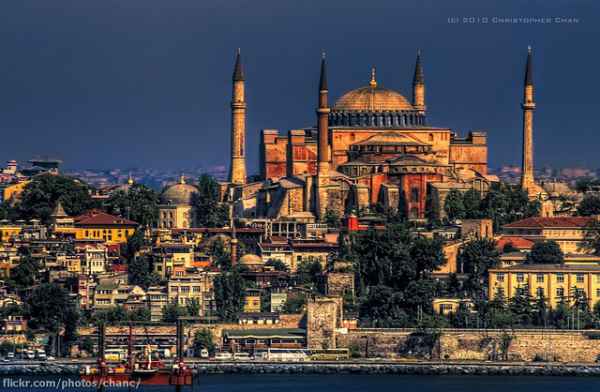 Throughout the history, Turkey has not only been a great tourist attraction but also a precious land for the traders, conquers and travelers of all kind. The ancient land of Turkey has seen quite a lot and still carries the remnants of many ancient civilizations. Archeology of Turkey is just one of its great charms. The landscapes here are great spectacles of nature be it mighty mountains, waves of rock or sandy beaches. Here are top 10 tourist attractions in Turkey that no avid tourist should miss while visiting this beautiful country.
10. Oludeniz
Oludeniz, one of the most peaceful ocean sights known to man, is known for its picturesque resort village with a spectacular white sandy beach in southwestern Turkey. The word Oludeniz means Dead Sea as the water of the ocean here remains perfectly calm almost always.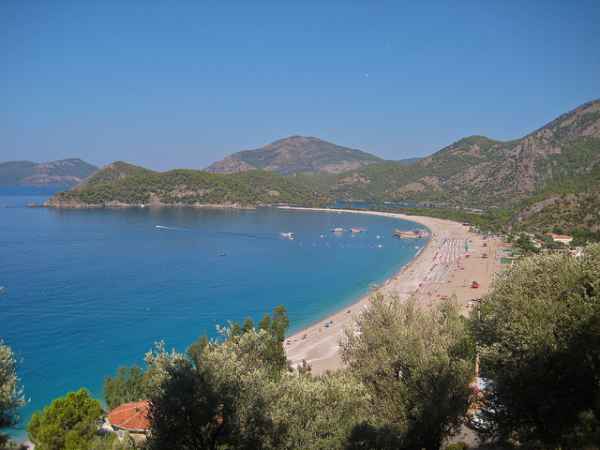 With a splendid lagoon of turquoise and aquamarine water, Oludeniz stands out as one of the most beautiful beaches in the entire world. With some delightful resorts and amazing opportunities for paragliding over the area, these heavenly shores will give you a memory to cherish for a long time. Thus, Oludeniz very easily makes this list of top tourist attractions in Turkey.
09. Pergamon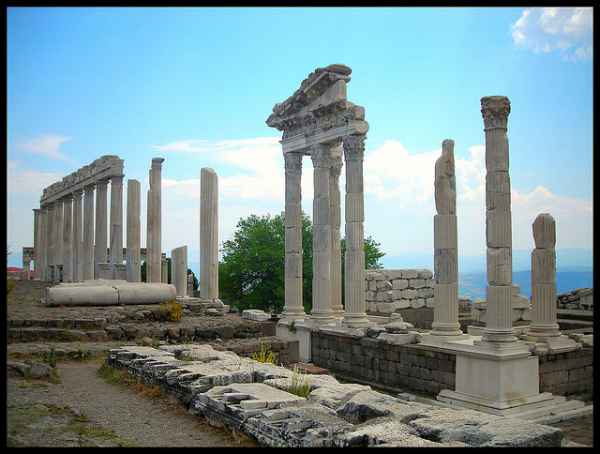 Pergamon is the ruins of an ancient Greek city that thrived during 300 BC. Currently, it can be found on the hilltops north of the river Caicus, close to the city of Bergama. The city holds many ancient legends and mythical stories and was cited in the book of revelations of the Christian religion. It was once home to many sacred temples and great libraries such as the Library of Pergamon. Also the city is believed to be the throne of Satan from many religious standpoints. With these fascinating stories and the remnants of some proudly standing pillars and platforms, these ruins are among most popular tourist attractions in Turkey.
08. Aspendos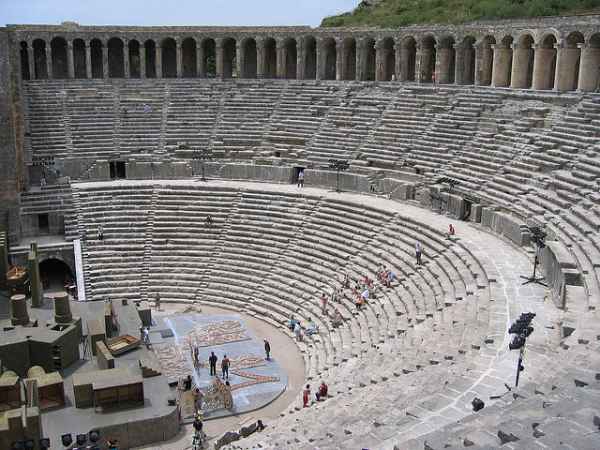 Aspendos is a city just south of Antalya with an amazing ancient theater named the Aspendos theater. It is a roman theater that was built in the 2nd century to hold 7000 people in attendance for various events. It is one of the finest surviving theaters of all time. Several prominent events such as The Aspendos International Opera and Ballet Festival are held here in the spring and early summer attracting a lot of tourists. An amazing gallery and stone stage take the spectators back in time.
07. Mount Nemrut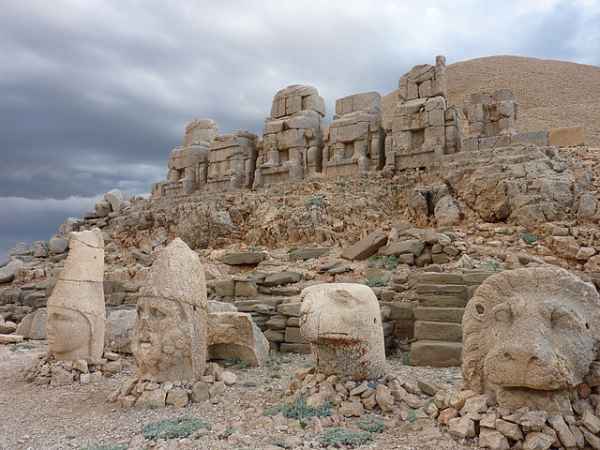 Mount Nemrut is a mountain on southeastern Turkey famous for the remains of an ancient royal tomb. The tomb contains some spectacular stone made thrones and statues of body less heads belonging to the gods of ancient legends such as Zues, Apollon, Heracles and many more. Often referred to as the pantheon of the Armenian gods, this summit of Mount Nemrut is an archeological site of great importance and is one of the most visited tourist attractions in Turkey.
06. Sumela Monastery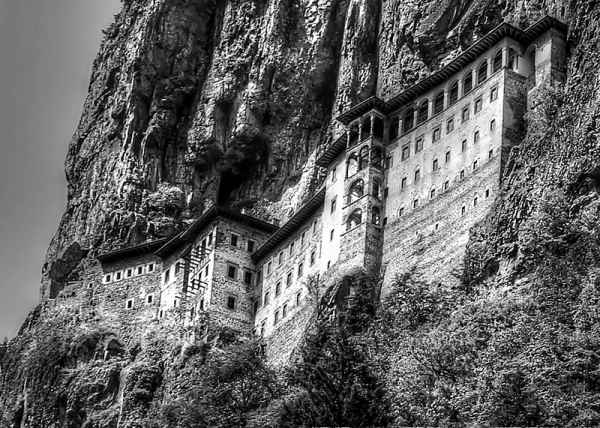 Sumela Monastery is a stunning architecture built right on a cliff face of the Melá Mountains in the Trabzon Province of Turkey. It is a Greek Orthodox monastery dedicated to the mother of Jesus, Virgin Mary. Founded in 386 AD, the Monastery is a fascinating religious complex containing several chapels, a library and a rock church decorated with colorful frescoes. It has enormous religious, historical and cultural significance and provides a fascinating view of the forests and streams of the Altındere valley creating top notch tourist attraction.
05. Topkapı Palace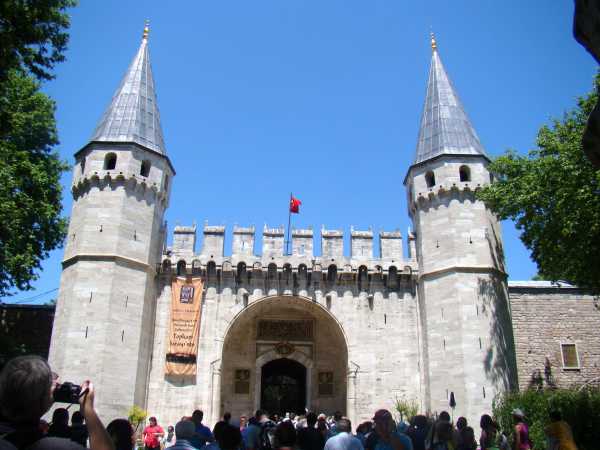 Topkapı Palace in Istanbul is one of the finest reminders of the Muslim empires that once rooted heavily in Asia and parts of Europe. Built in the late 14th century, it was the royal palace for the Turkish sultans for 400 years. The palace complex has four courtyards and contains many other amazing smaller buildings such as mosques and kitchens. Today it serves as a museum preserving many priceless artifacts and holy relics including the prophet Muhammed's cloak and sword. The view of the tower of justice, the kitchen chimneys and the domes from the strait of Bosphorus and Marmara Sea is absolutely stunning. Thus, it very easily makes this list of top tourist attractions in Turkey.
04. Cappadocia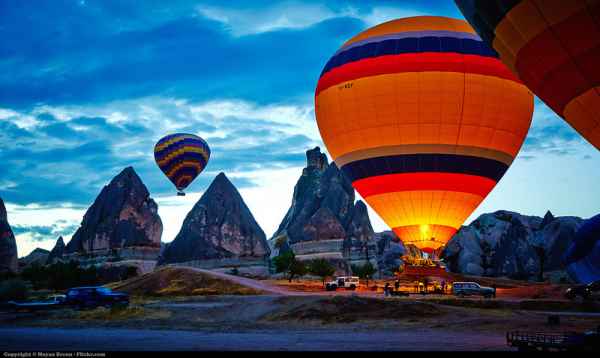 Cappadocia is a spectacular land filled with some of the most amazing natural sights in Turkey. It is located in the Central Anatolia of the Nevşehir Province, in Turkey. It is such a prominent site for the unusual rock formations that fills the valleys, hills and plains of the region. These peculiar formations are a result of thousands of years of erosion by wind, rain and other forces of nature. Mushroom shaped, pinnacled, capped and conic shaped forms known as fairy Chimneys and stunning dwellings carved out of rocks are simply breathtaking. You won't find any top tourist attractions in Turkey list that does not contain Cappadocia.
03. Ani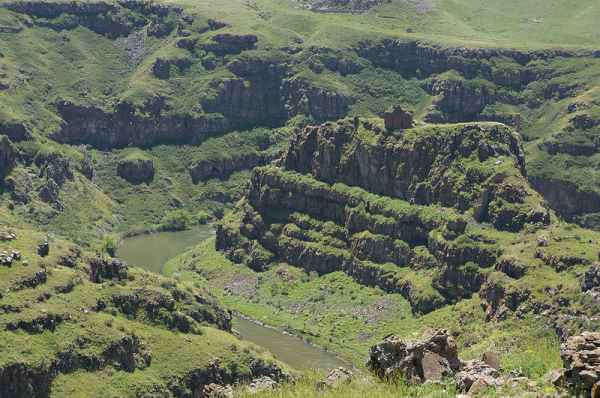 Lying very close to Turkey's modern border with Armenia is the ruins of yet another ancient city, Ani. The city thrived as the capital of the kingdom of Armenia between the year 961 and 1045. The golden days of this once magnificent city was diminished by Mongol raids. This legendary city was once home to 200,000 people and was known as the "City of 1001 Churches". Many significant archeological excavations has taken place here throughout centuries and the area has become a national treasure and one of the most popular tourist attractions in Turkey.
02. Ephesus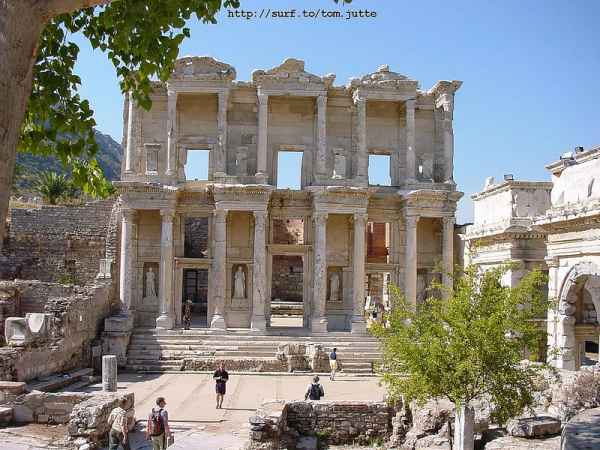 Ephesus is an ancient Greek city built more than 3000 years ago. The city thrived during the Roman Empire in the 2nd century AD and contains ruins of many great temples, mosques, libraries, tombs, gates and spectacular city streets. The site is best known for the Temple of Artemis the goddess, one of the seven ancient wonders of the world. It is site of great religious, archeological and historic importance and a fascinating tourist attraction.
01. Hagia Sophia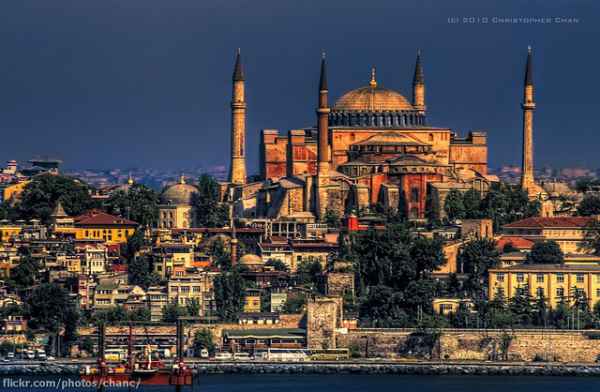 First a church, then a mosque and now a fascinating museum, Hagia Sophia, have been parts of many histories for thousands of years. It was built in the 5th century by the Greek as a cathedral dedicated to the Logos a part of the holy trinity otherwise known as "Wisdom of God". It was of a great significance to the Christians for a long time until it was converted to be a mosque by the ottoman empire in 14th century. Including a massive dome and four spectacular minarets it has many splendid architectural features. The interior is even more impressive with Medallions and pendant chandeliers, a mihrab and many other spectacular sculptures of Islamic and Christian implications. And with countless holy relics and artifacts inside it is not hard to see why some call it the most beautiful building in the world.
Author:
Tajirul Haque
Tajirul Haque is a travel enthusiast and freelance travel writer on Upwork. Having written hundreds of travel articles on so many travel destinations around the world for his clients, Tajirul started Top Travel Lists back in September 2014. Travel writing is his passion and he always loves to write about a new destination as it allows him to know about more beautiful places the planet has to offer. He is always available for freelance travel writing opportunities.