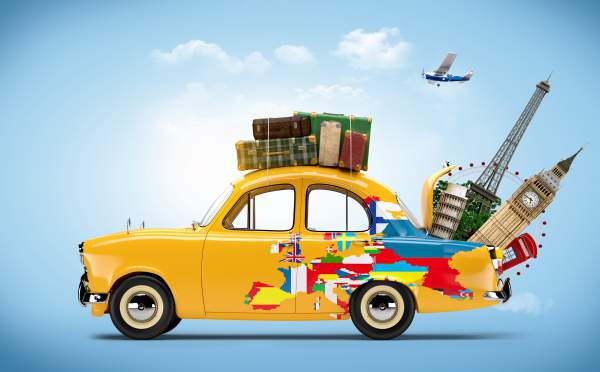 Every day we hear about the world economy being shaky and uncertain, but peoples' will and desire for travelling still stays strong. No bad economic situation can change the beauty of the planet we live on. And if you are among those who wish to travel, but are on a tight budget, better get into organizing and finding out how to create a better trip for yourself. With some info, various tips, and by playing your cards right, you can manage to organize a great trip that will not be a major hit on your pocket.
1. Choose Your Time
Visit websites like Skyscanner to get a good overview of all the flight fares around your chosen date. This is perfect if you are not booking a pre-packaged holiday, but would rather travel independently. When searching for flights, always check what is included in the fare.
Periods for significantly cheaper travels are the last week in August, and the first week in September. It is the end of the school summer holidays, and you may be able to squeeze in before the schools go back, and save 10-15% over peak-season prices. If you want to travel to a tropical climate destination, then consider travelling in October, make early bookings and save up to 40% over peak-summer prices.
2. Early Reservations
Save money by booking an "early bird" reservation. When you make a reservation months before your trip, you can get substantial discounts. Agencies such as such as Travel Pay have great offers for "early birds" – paying in several installments (with a locked exchange rate), and interest free payment options. However, you will probably be charged a fee if you decide to change the reservation, or cancel it.
3. Negotiate
You can get great discounts if you know how to bargain, especially with hotels, travel agents, and tour operators. Travel industry products are time-sensitive. If are doing a last-minute booking, and there is an unsold empty airline seat or a room left empty for the next night, bargain for it and save some cash.
4. Weight & Size Of Your Luggage
Measure and weigh it. Airlines have imposed restrictions regarding luggage size and weight, and you should be sure that yours are below those restrictions, because the excess charges are humongous.
5. Accommodation Near The Beach
Booking a villa with a swimming pool can add hundreds of dollars to its booking cost. Instead of that, find an apartment, a condo, or a house located near the beach. It will cost you much less, and you will still be able to have a swim whenever you like.
6. Tax Free Shopping
It is not possible within the EU, but countries like Turkey, Morocco, and Singapore have shops that participate in national tax-free schemes. Just keep your receipts, show them at the airport as you leave the country, and local sales tax can be refunded to you.
7. City Sightseeing Pass
Not all of them are good value, but can be more beneficial than travel passes. For example, when in Vienna you can buy the 19.90€ Vienna Card, which allows you up to 25% discounts, and unlimited free public transport for 72 hours, and other offers at shops, theatres, museums, concert halls, and restaurants.
8. Car Rentals & Insurance
Car rental companies' prices are presented as low as possible in their commercials and ads. However, they might try to charge you some extra during the booking process or arrival. Always compare bottom-line prices. One has to have an insurance, to prove liability for paying in case the car gets damaged. You can save some money by buying an insurance from an insurance specialist.
9. Organize Your Own Excursions
Commercially arranged tours in Europe can cost you up to 50€. If you book your own admissions and take the train or bus, you can save up to 25€.
10. Age – Over 65, Under 26
In some countries, like Italy for instance, entry to galleries and museums belonging to the state is free for those under 26 and over 65. All you have to do is to present your passport at the entrance. A valuable tip for students: always carry your student ID, for you never know when and where you can get lower charges or free entry.
As you can see, there are many ways you can save money and have a good traveling experience, even on a tight budget. The most important thing you should do is to take some time and research all the available options and you'll be amazed how much many you can save. Safe travels!
Author:
John Stone
"John Stone is a DIY enthusiast keen on learning about new and exciting things this world has to offer. His interests include business, new technologies, travel adventures and pretty much all-things-DIY.
You can contact him on Facebook."