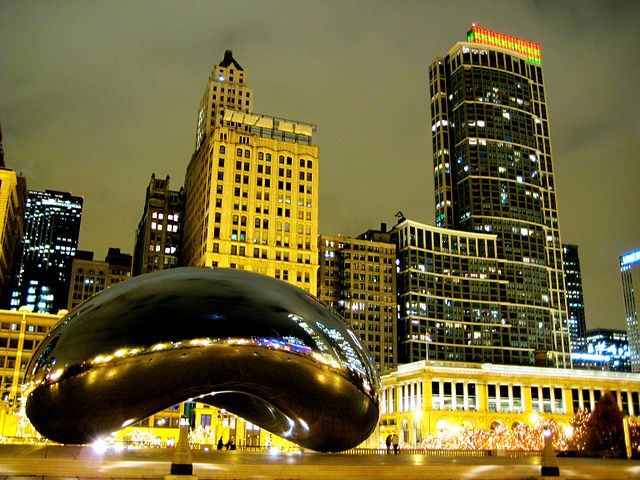 If there is one city in the US that anyone should visit, it is Chicago. It is after all, one of the nation's key cities. To help you understand why this city is a must-see destination, you may want to learn more about the tops things to do in Chicago.
1. See the Cloud Gate at the Millennium Park
The Millennium Park is one of the most popular attractions in Chicago and there are many good reasons why that is so. First it is offers a great collection of free arty sights, it has the: 120 foot tall silver band shell anchor designed modern gallery; 50 foot Crown Fountain: BP Bridge offering magnificent skyline views; McCormick Tribune Ice Rink; and the Nichols Bridgeway. Aside from those attractions, a visit to Millennium Park should be on your list of things to do in Chicago because of the Cloud Gate – also known as The Bean. This architectural magnificence is a smooth silver-drop, 110-ton weighing sculpture, and it is not your ordinary art. It is playful and so enchanting that visitors from all over the world can only look at it in awe and amazement.
2. Visit the Willis Tower – USA's Tallest Building
It used to be called the Sears Tower until Willis Group Holdings got it in 2009. It has a Skydeck (at 103rd floor) that offers visitors to be way up in the clouds – at exactly 1454 feet high. What's more exciting about this skyscraper is that you are going to be really thrilled to look down at the glass floor ledges.
3. Indulge in Arts
Probably one of the most common things to do in any destination is to learn and experience that city's arty side. In Chicago, you can indulge in arts at the Art Institute. This place simply rocks with a great selection of masterpieces and other treasures from all over the world. If you include a visit to this place on your things to do in Chicago list, you will have a good time viewing and admiring impressionist, as well as post-impressionist artworks. A visit to the Modern Wings will surely dazzle you with the light and the Miros and Picassos.
4. Have a Blast at the Navy Pier
You do not have to be a child to enjoy a visit to the amusement park. Having a blast at the Navy Pier is very much possible no matter age group you are. The 150 foot Ferris wheel is definitely this place's main attraction, along with the IMAX Theater, a traditional swing ride, 18-hole mini-golf course, a chain of restaurants and a beer garden. The lake front view is also something worth coming for. Other attractions on the Navy Pier include the Smith Museum of Stained Glass Windows and the Chicago Children's Museum.
5. Enjoy a Movie or two at the Music Box Theatre
The Music Box Theatre is not an ordinary movie house because it does not feature your traditional Hollywood films. Rather, it presents that latest documentaries and art house movies and cult classics. Thus, a visit here is something that should be in the list of your things to do in Chicago.
Author:
Tajirul Haque
Tajirul Haque is a travel enthusiast and freelance travel writer on Upwork. Having written hundreds of travel articles on so many travel destinations around the world for his clients, Tajirul started Top Travel Lists back in September 2014. Travel writing is his passion and he always loves to write about a new destination as it allows him to know about more beautiful places the planet has to offer. He is always available for freelance travel writing opportunities.