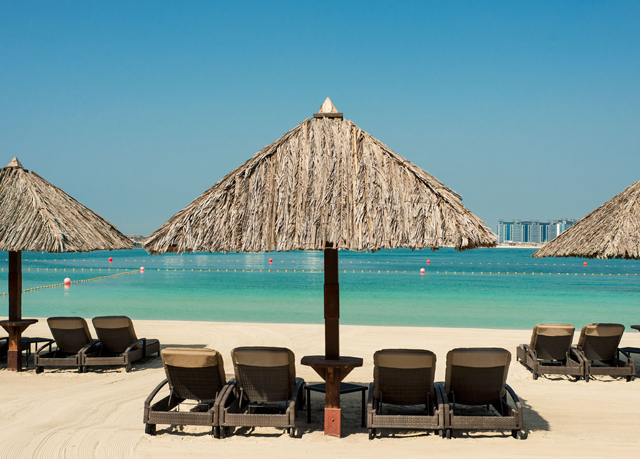 Not many people consider Dubai as a romantic city. Maybe classy and luxurious, but not romantic! If you believe this then you probably have never been to this magical Emirate city of UAE. Yes, it is nothing like the traditional romantic cities of Paris and Venice, but with its modern touch, Dubai surely can add romance to your holiday.
Dubai Romantic Weekend Getaways
Dubai has a lot on offer for couples wanting to spend some special romantic time together. Here we have provided with some of the best romantic weekend getaways in Dubai.
Overnight Desert Safari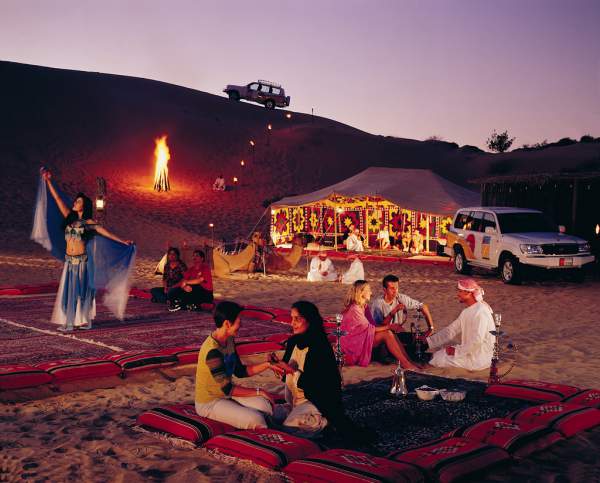 Spend a night with your loved one, away from the hustle-bustle of the city, a place where you would find absolute silence, the desert. There are many tour companies that offer overnight desert safaris. The safari which begins in the evening with lot of desert activities ends in the morning after a scrumptious Arabic breakfast. The best part is that you get to watch the sunset as well as the sunrise in the desert, both of which are magical experiences. Most overnight desert safaris have groups of other people although they do provide separate Bedouin-style tents, where you get to lie in sleeping bags and stare at a starry-lit sky. However, if you want to avoid the crowd, you can book a private desert safari. There are various hotels that offer this experience to guests. The Al Maha Desert Resort and Spa is a great place to spend a romantic weekend with your spouse.
Dhow Cruise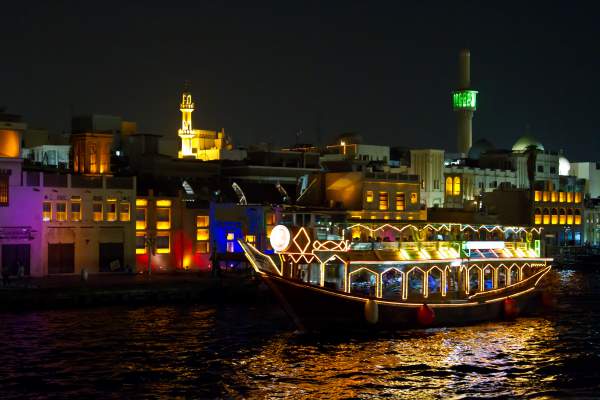 Having a dinner at a fancy restaurant is a classic example of a dinner date. But instead of going to a regular restaurant, why not do something unique? Dubai offers several dhow cruises on the Dubai Creek as well as on the Dubai Marina. The dhows are traditional boats used for transport in the past which have been transformed into restaurants that have an upper deck and a lower deck. Try to arrive early to be seated on the upper deck of the dhow from where you can not only enjoy the beautiful sights of Dubai but also the light breeze. The dhow cruise dinner Dubai Creek or Marina involves soulful music, traditional Tanura dance and a delicious dinner. If you want to have a private dinner with your loved one, you can also choose to hire a yacht for a few hours or even for an entire day and night.
Hot Air Balloon Ride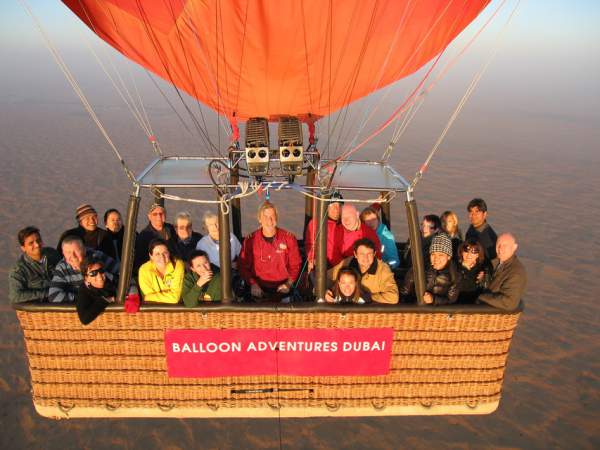 Floating over the beautiful city and desert of Dubai with your special someone in tow is romantic. Although it is not exactly a romantic weekend getaway, it is definitely one of the best ways of spending a romantic time with your partner, where nothing and no one can disturb you. There are several tour companies that can arrange a hot air balloon ride for you. If you are staying at a hotel in Dubai, enquire at the reception about this, and they would most likely arrange a hot air balloon ride for you. The best time for this would be early in the morning when you can watch the glory of the city and the desert when the sun rises. Moreover, if you are thinking of popping the question, there is no place perfect than this. The view, the atmosphere and the thrill of being so many feet above the ground would make your proposal a memorable one.
Beach Holiday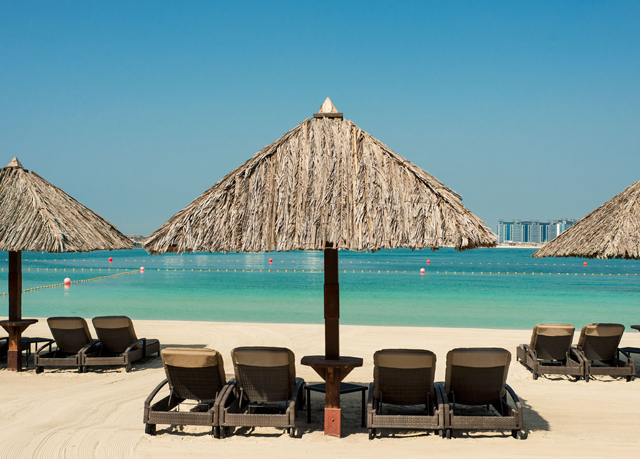 Beaches do have a romantic air with its blue waters, sun-kissed sand, beautiful waves and the surrounding scenery. So, if you want to spend a romantic weekend with your beloved, head to the nearby beach. Plus, Dubai has plenty of them. There are several public beaches where you can have a picnic and try out some water sports or just lie around and relax. However, if you want to get pampered while you and your partner spend some quality time, you should choose to go to a private beach owned by private hotels. Some hotels allow people to enter their beaches by paying a nominal fee, or you may have to be a guest at the hotel. The latter seems to be a great idea if you want to have a romantic weekend getaway. Burj Al Arab, Hotel Atlantis the Palm, etc. are some of the hotels that not only can offer beautiful beaches but also some luxurious and romantic experiences.
Away from Dubai
If you want to take a break from Dubai, you can travel to another Emirate city for your romantic weekend. You can explore the neighbouring Emirate cities like Sharjah, Abu Dhabi, Ras Al Khaimah, Fujairah, etc. Although Fujairah and Ras Al Khaimah are not as developed as Dubai and Abu Dhabi, they are endowed with a natural beauty that is mesmerizing. There are several resorts and hotels in these Emirate cities that are perfect for your romantic weekend. If you want to spend time with your beloved cut-off from the world, the Banyan Tree Resort in Ras Al Khaimah is the perfect place. This Ras Al Khaimah Beach Resort is situated in the coastal area of Al Hamra Village and is no less than Maldives. You can spend your time lying on the beach in front of the beautiful blue waters or explore the nearby desert. The resort opens a different world of Bedouin living within splendid settings which is perfect for romance.
These are just some of the ideas for romantic weekend getaways in Dubai. There are many more things you can do in the city to make your partner special or to rekindle the romance in your relationship. So, what are you waiting for? Make plans for a special weekend with the love of your life!
Author:
Tajirul Haque
Tajirul Haque is a travel enthusiast and freelance travel writer on Upwork. Having written hundreds of travel articles on so many travel destinations around the world for his clients, Tajirul started Top Travel Lists back in September 2014. Travel writing is his passion and he always loves to write about a new destination as it allows him to know about more beautiful places the planet has to offer. He is always available for freelance travel writing opportunities.