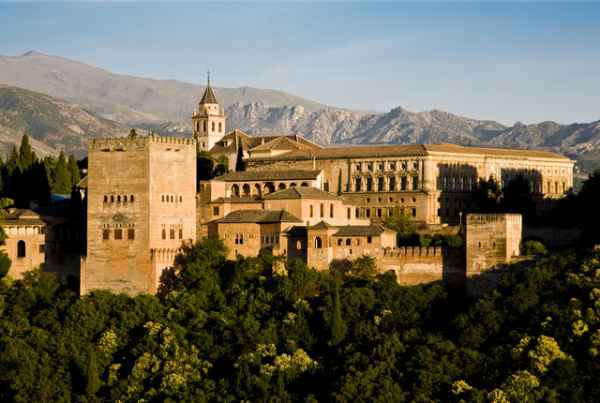 Located in the Southwestern Europe with vast open plains and grand mountains, Spain is land of beauty, contrast and pride. Often called an Africa within Europe, Spain is magnificent and majestic full of wonderful people. With rich history, glorious cultures, grand architectures, natural beauties, Spain offer tourists a wide range of places to visit, activities to do and experiences to gather. There are so many popular tourist attractions in Spain that every avid tourist would love to visit. Here I present top 10 tourist attractions in Spain to help you plan your Spain trip.
10. Museo Nacional del Prado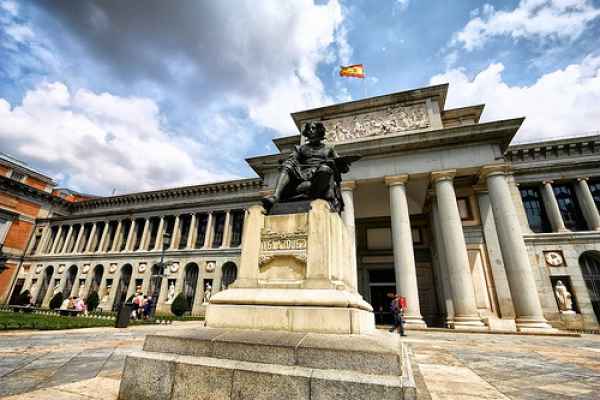 Museo Nacional del Prado, the national art museum of Spain, is located in central Madrid. Some of the most exclusive and premium arts of Europe dating as far back as 12th century can be found here. Its extensive collection includes works done by francisco de goya and many other famous pieces of Diego Velázquez, El Greco, Titian, Peter Paul Rubens and Hieronymus Bosch. Designed by the architect Juan de Villanueva this historic site has been open to the public since 1819 and been one of the major tourist attractions in Spain. Today it draws about 3 million visitors every year.
09. Palacio Real de Madrid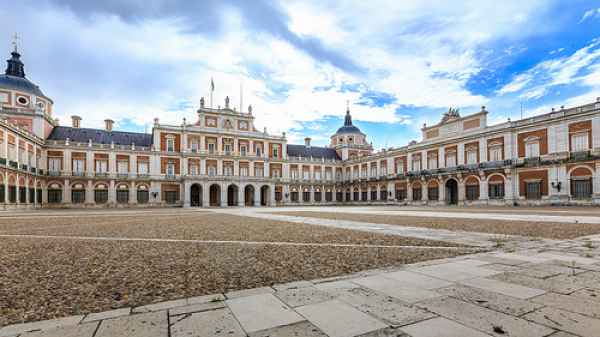 Much like the Buckingham Palace of London, Palacio Real de Madrid is the residence of the royal families of Spain. Although only used for housing the royal and state ceremonies today, it lost none of its importance and grandeur touches. The palace still remains one of the largest palaces in Western Europe extending over some 1.45 million square feet and comprising of more than 3000 rooms. The spectacular changing of the guard Ceremony, few neatly kept lawns and gardens , the impressive hall of mirrors and an armory with weapons dating back to the 15th century are a few of its core attractions, making it one of the top tourist attractions in Spain.
08. Sevilla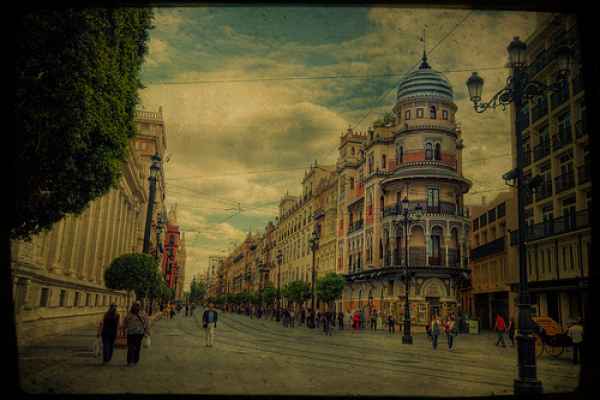 Sevilla, The place where the iconic flamenco dance of Spain was born, is a historic city in southern Spain, full of marvelous landmarks. It is a place of mythical beauty and according to the legends; Seville was created by Hercules, the son of Zeus. The 2000 year old city is rich in historical and cultural inheritance. During the spring, week-long festivals such as Holy Week and Feria de Abril, full of drinking and feasting take place. The City is full churches, mosques and museums of grand sculpted architectures. Filled with delightful and interesting people, Sevilla is universally recognized as a very joyous town and one of the best known tourist attractions in Spain.
07. Ibiza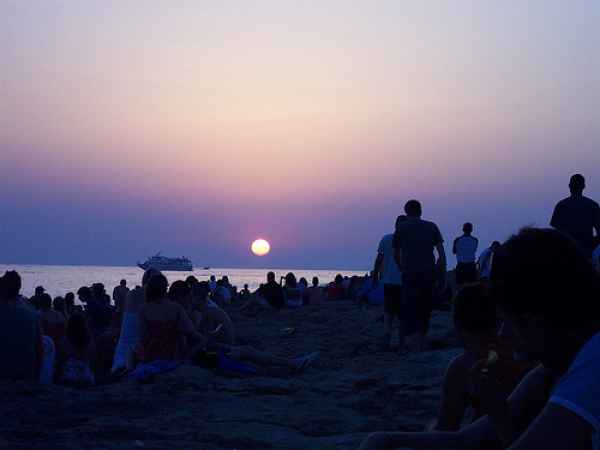 Known to the tourists as a party heaven, the Island of Ibiza is located in the warm waters of the Mediterranean Sea. With amazing disco lights, electronic music and world famous DJs the sleepless clubs make this island a clubbers holy sanctuary. Beautiful white sandy beaches, crystal clear water, the vibrant nightlife scene and the remains of an ancient Phoenician colony, this island can offer you an exotic and sensational holiday.
06. Camp Nou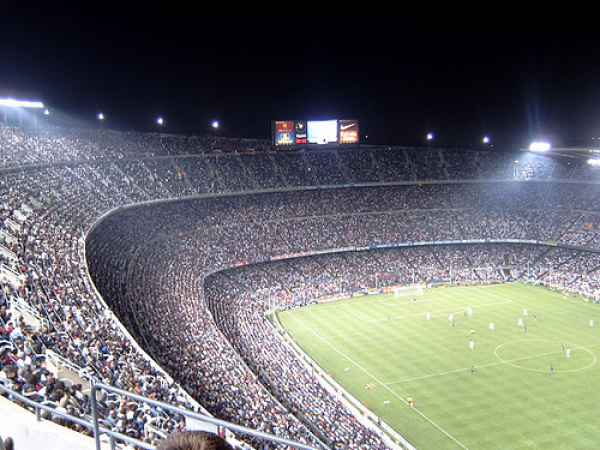 Dedicated to the most popular sport in Spain, Football, Camp Nou of Barcelona is a very impressive Stadium. Established in 1957, this stadium can hold up to 100,000 people within its boundaries. In terms of capacity, it is the largest stadium is Europe and one of the top 20 in the world. Since its beginning it has hosted some major football league matches and finales. Here, people of Spain embrace their passion for football and create a joyous atmosphere like no other. Some remodels are currently being planned to hold a few thousand more attendees. Experiencing a Football match in Nou Camp will add a different and exciting value to your stay in Spain. So, Nou Camp is certainly one of the best tourist attractions in Spain that you should have a visit.
05. The Running of the Bulls in Pamplona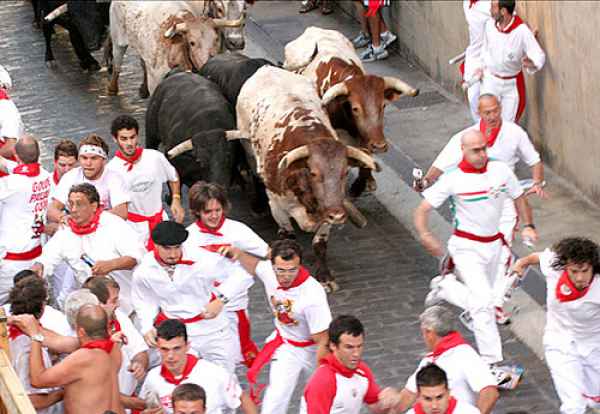 Immortalized by the famous author Ernest Hemmingway, the running of the bulls in Pamplona is an extremely exciting and breathtaking event even for those who are just spectating. Bold, terrifying and dangerous, this event takes place in July during the eight-day festival of Sanfermines. It is exactly as the name implies, running a total of 900 yards while being chased by about a dozen angry Bulls. For many people it is adventurous, addictive and exciting and for the viewers a mighty remarkable sight. So, if you are visiting Spain in July, this is one of the most popular tourist attractions in Spain that you should never miss.
04. Plaza Mayor, Madrid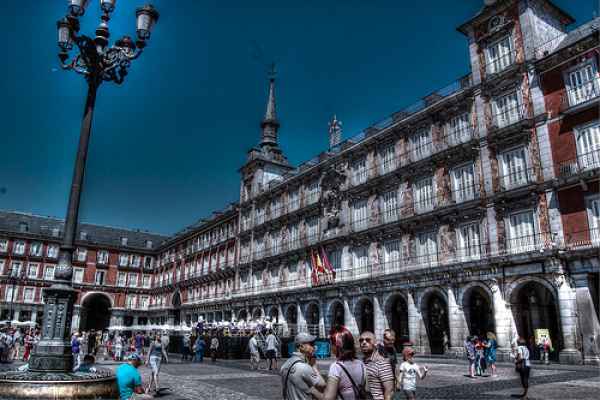 Built during Philip the 3rd's reign in the early 16th century, Plaza Mayor in the city of Madrid is one of Europe's most famous and popular public squares. It was originally designed by the famous architect Juan de Herrerain in a classical style and redesigned in the 18th century by Juan de Villanueva after a devastating fire. With a bronze statue of King Philip III at the center, the plaza is surrounded by beautiful three story residential buildings with adorned balconies. It is the perfect place to blend in with the Spanish people in their natural atmosphere, making it one of the top tourist attractions in Spain.
03. Mezquita-catedral de Cordoba
With some amazing standing pillars curved from precious Ivory, jasper, porphyry, gold, silver and copper with ceilings of strikingly striped arches, Mezquita-catedral de Cordoba is an amazingly decorated Muslim mosque and a Christian cathedral. Built over a former roman temple, the mosque was constructed over a span of 200 years. Its core features include a complexly patterned and prayer niche and a dome. It is a visually stunning architecture with great historical and religious significance. So, it is one of major tourist attractions in Spain for archaeological site lovers.
02. Calat Alhambra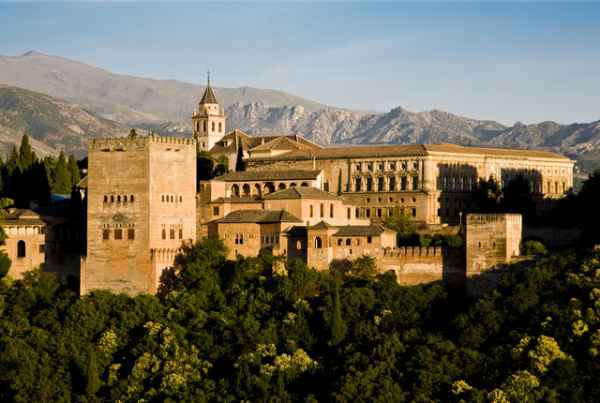 Sitting on a hill overlooking the city of Granada, Alhambra is a palace, a fortress and a mosaic of different cultures that ruled Spain throughout history. The beginning of its construction dates back to 11th century and continued for centuries. Once home to the Muslim rulers, Alhambra is one of the most visited tourist attractions in Spain. Many buildings were added in many different times like the citadel, palaces, gardens and courts. And the insides of these structures are absolutely stunning and breathtaking.
01. Sagrada Familia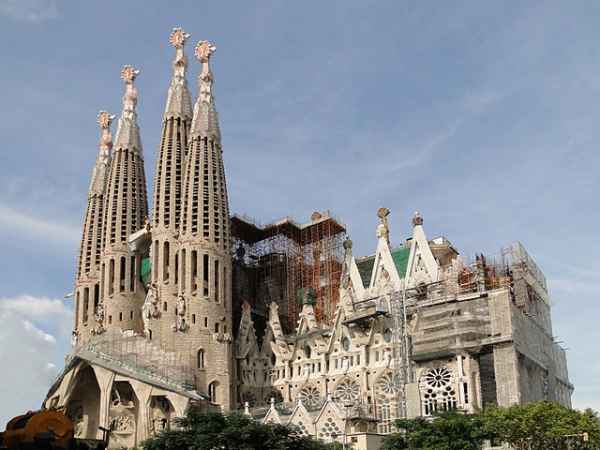 Taking the top spot is a wonder still under construction. With the full name of "Basílica i Temple Expiatori de la Sagrada Família" meaning "Basilica and Expiatory Church of the Holy Family", Sagrada Familia is a stunning and famous roman catholic church in Barcelona. It was designed by the famous architect Antoni Gaudí who also designed many other famous Spanish buildings. Its construction begun in the early 1880's and is expected to be finished 2026. It is being projected to be one of the most exclusive religious sites in Europe. A marvel of architecture, engineering and construction decorated in medieval styles the church is overflowing with Christian symbols and statues. The majestic and grand interior filled with colorful stained glasses and sculpted walls will surly leave a mark on your mind. It's already one of the top tourist attractions in Spain and when it will be completed in 2026, it is expected to be one of the bests in the world.
Author:
Tajirul Haque
Tajirul Haque is a travel enthusiast and freelance travel writer on Upwork. Having written hundreds of travel articles on so many travel destinations around the world for his clients, Tajirul started Top Travel Lists back in September 2014. Travel writing is his passion and he always loves to write about a new destination as it allows him to know about more beautiful places the planet has to offer. He is always available for freelance travel writing opportunities.